Monday, July 25, 2016 03:33:00 AM UTC
How a women-led Denver startup quickly found sweet success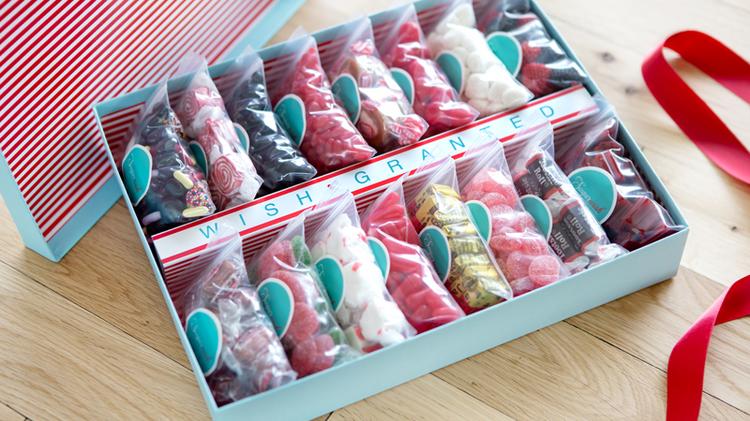 VIEW SLIDESHOW
Sending candy to a friend or coworker for a special occasion or to a client as a thank you is probably something you've done a time or two.
Sweets are, after all, an American favorite for gift-giving.
But a Denver-based company formed by two local women flipped the idea of sending candy on it its head with the launch of Sugarwish, a company they say puts the gift-receiver, rather than the giver, in the drivers' seat.
"We thought, 'what if we could create that feeling and experience that wasn't about receiving candy, but picking that candy – that kid in a candy store experience' we might have something," said Sugarwish co-founder Elisabeth Vezzani.
The boxes range from $16 to $95, including taxes and shipping.
Launched in November 2012, the business is based on a simple concept: the giver purchases a candy box from the Sugarwish website, Sugarwish sends the receiver an e-card and then the receiver chooses the candy they want in their gift box on the website. The box of candy is then shipped to the receiver, who gets it three to five days later.
"I found a lack of clever gifts that would stand out," Vezzani said, referring to her former job where she worked for a staffing firm. "It seemed like there were the same few options that everyone used. I was always the crazy one looking for that fun idea – that would get them excited and make their day."
Vezzani co-founded Sugarwish with Leslie Lyon, which immediately drew the attention of national media companies. Vezzani and Lyon have appeared on The Today Show twice, and the Sugarwish concept has been featured in magazines like In Style, Women's Health, Cosmopolitan, People, iVillage and more.
"We knew instantly there was interest," Vezzani said. "We just kept getting phenomenal press. It was such a quick, viral growth. We were amazed."
Seeing the potential, Vezzani said they quickly looked to experts for help to scale it — they were one of eight women-led startups selected by Merge Lane, a Boulder-based startup investment accelerator.
Since launching, Sugarwish has grown 2.72 times per year and is up to nine employees who work to fill orders and handle customer service out of its office near I-25 and South Colorado Boulevard.
"For every person that receives a Sugarwish, 15 percent turn around and send one," Vezzani said, saying that's one factor that's led to the company's rapid growth. "Social media has been fantastic for us, too — Instagram in particular. Because they're a fun gift they picked … so many people share their Sugarwish on Instagram when they receive it. That's been a wonderful way for people to find out about us."
And last February, Sugarwish branched out into the corporate world with the launch of a platform designed specifically for companies that want to quickly send customized candy boxed to employees, clients and customers.
"If a hotel wants to thank clients after an event, they can send 'sweet thanks,'" Vezzani said. "They're able to use their own custom cards to use as Sugarwishes. It goes out and the receiver gets to pick exactly what they want, but with that customized packaging."
Vezzani said like the main business, corporate interest in the new program has been "tremendous," with Sugarwish signing up three to five new companies for the program a day "We're really continuing to build out our corporate platform," Vezzani said, adding that will be her main focus in the coming years. "[We want] to make them stand out to their employees, stand out to their clients and give them more options."

• • • Thank you Denver Business Journal for the feature! Read the original story here • • •