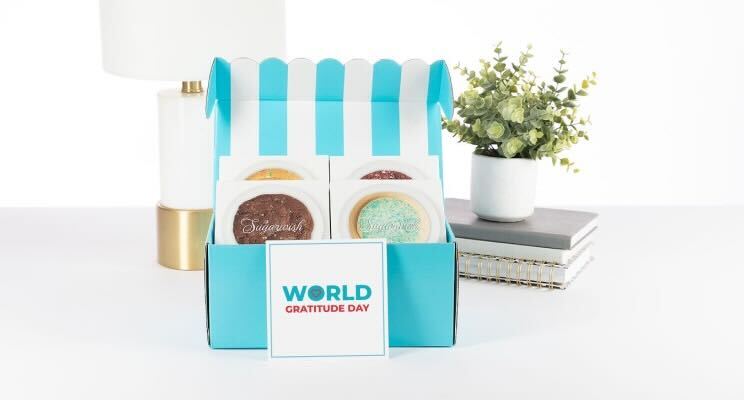 According to the Harvard Business Review recognizing employees for the good work they do is not only a critical leadership skill but good for business - and impacts morale, productivity, performance, retention and even customer satisfaction. According to Gallup's analysis, the act of recognition also sends messages to other employees about what success looks like. In this way, recognition is both a tool for personal reward and an opportunity to reinforce the desired culture of the organization
"Gratitude is a building block of any company culture and more important than ever in today's evolving workplace. Paying it forward, whether with kind words of encouragement, or stopping to say 'Thank You' in an authentic way with co-workers, customers, etc is so simple but so often overlooked. We've even incorporated time to share Gratitude in our weekly staff meetings and daily on Slack. We've even developed Sweet Gratitude notes into the reporting feature in our Happiness Dashboard." says Vezzani, Sugarwish CEO.
This year Sugarwish will be celebrating World Gratitude Day with a pay it forward approach. Employees will be given a Sugarwish to send (gift) to someone else with their message of heartfelt thanks for positively impacting their career (life).
"We're keenly aware that the benefits of giving a gift or expressing gratitude are often just as significant as being on the receiving end of that kindness. This also reinforces one of our Company values: Kindness Matters! " - notes Melissa Mills Mcloota, Sugarwish's Vice President of People and Culture
Next Level Gratitude Tips & Tools
Make Gratitude a Habit:

Keep it simple, authentic and thoughtful. What you say and how you say it matters. Take time to add details around specific accomplishments, milestones, etc. This will go a long way to the authenticity and how the message is received. …For example; one of our Sugarwish Corporate Values is that "kindness matters". Acknowledging how employees work reflects a company value in your message can go a long way.

Provide a Meaningful Gift Experience:

The magic is in the details. The more personal and custom focused the more the gesture will be appreciated. The experience that the gift provides is as important as the gift. Thoughtful words, and a sweet gesture, can be all it takes to make someone feel recognized and special.
Timing is Everything:

Showing up and surprising them with kind words of acknowledgement after a big win, milestone, or just because kudos when they go above and beyond has additional value.. Saying thank you a week later while still important will be a lot less sweet. Celebrate the big and the just because moments. In fact a random act of kindness - is the key to its power.

Instant Gratitude: Email, Text, Slack, (and more!)

Remote/Hybrid work is here to stay and finding ways to show up with engaging touch points can be hard to schedule. Sending the gift where they spend most of their time (the phone/email) and ships to them wherever they are will make the gift feel that much more personal. If you know your employee checks Slack first thing in the morning, send the gift via Slack!