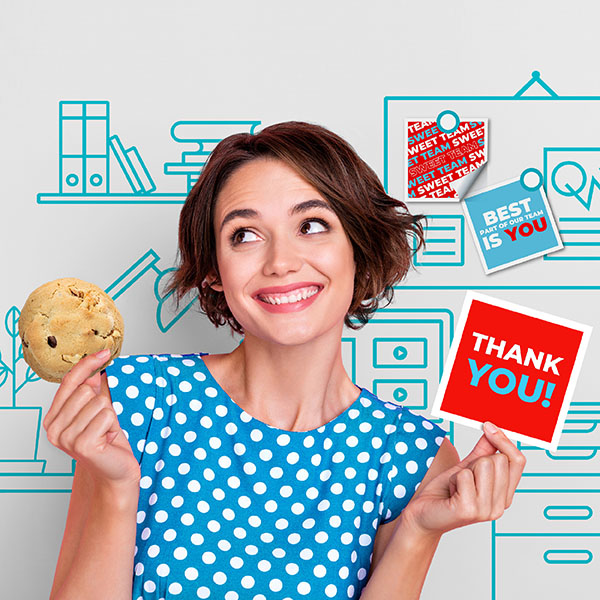 Employee Appreciation Day is March 3, and it will be here before you know it.
Showing appreciation to your team isn't just the "nice" thing to do – it's actually a great business practice. That's because employees are your company's most valuable resource. When they feel valued and appreciated, they are more engaged and productive!
The Harvard Business Review:

"Employee recognition — when done well — has huge payoffs.

According to the data we collect on leaders across industries, every measure of morale, productivity, performance, customer satisfaction, and employee retention soars when managers regularly provide recognition."
We know the connection between employee recognition and engagement is strong – so what better chance to invest in your team (and your company) than Employee Appreciation Day?!
We put together a few additional tips to consider when approaching your plans for recognizing your employees this March:
Big or small, your recognition is truly the thought that counts. But if you do invest in sending your team a token of appreciation, make sure to gift them something you know they'll enjoy!

Keep accompanying messages of appreciation authentic and thoughtful. Take time to add details around specific accomplishments or milestones – this will go a long way.

The more personal and custom, the more the gesture will be appreciated. The experience that the gift provides is as important as the gift. Thoughtful words, and a sweet gesture, can be all it takes to make someone feel recognized and special.

Remote work is here to stay, and finding ways to engage across the world can be tough. Sending a gift right to their home (without needing to ask for their mailing address!) will make your gift feel that much more personal.
Sugarwish makes employee recognition simple, easy, and most importantly, FUN – because what's more fun for your team than receiving a gift that lets them pick all their favorite treats, drinks, and more?!
Whether you're planning to send hundreds (or thousands!) of gifts, our streamlined process includes free shipping as well as international delivery, making it the perfect gift for teams large and small this Employee Appreciation Day.
Don't forget to customize the card with your company's logo and a thoughtful message!