Did you know that only one of out three American employees say they received recognition in the past week for their successes?
With Employee Appreciation Day coming up on Friday, March 3, there's still plenty of time to make sure ALL of your employees are getting the recognition they deserve!
Why is employee appreciation so important to your company's success?
⬇️ ⬇️ ⬇️

We found a few fascinating statistics that help to break it down:
(Source)
40% of employees in the United States state that receiving recognition more often would encourage them to do more work.

Currently, 83% of organizations suffer from a lack of employee recognition!

Modern employee recognition programs can hugely impact the performance of a business, specifically on improving employee retention stats. 63% of appropriately recognized employees are highly unlikely to quit their jobs!

85% of employees just hope for a simple "thank you" for their daily efforts and accomplishments.
A small token of appreciation can truly go a long way in building your company's success, especially on the biggest corporate gifting holiday of the year. It's time to make sure your company is leading when it comes to retention and employee engagement!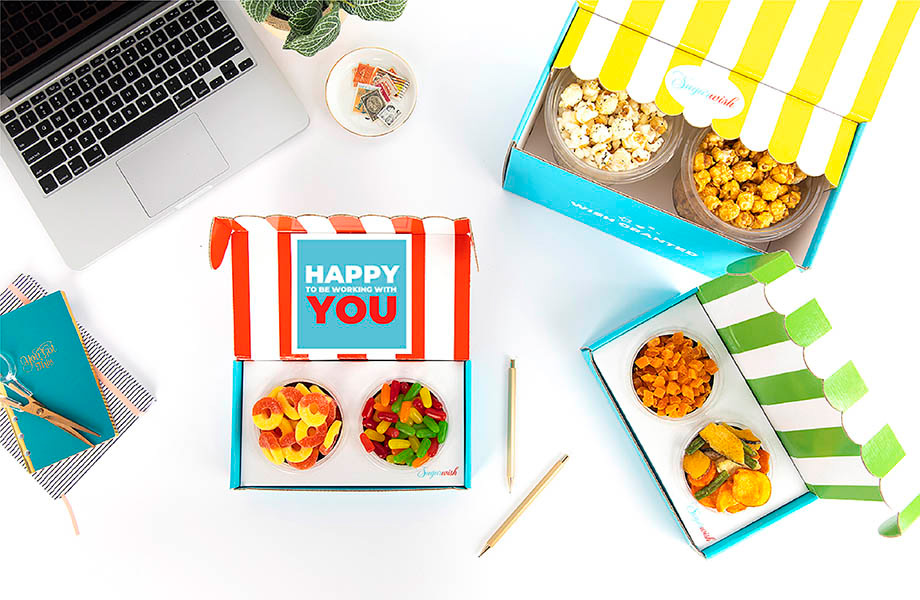 Here's how Sugarwish makes it easy – and FUN – to recognize your entire team this Employee Appreciation Day:
Our gifts let the recipient choose exactly what they want and start at just $25 delivered

Free corporate accounts make it easy to upload your entire gift list at once, whether you're sending one or one hundred or even one thousand gifts

We offer discounts up to 15% on very large orders

Sugarwish makes it easy to include overseas team members with international shipping

Every gift includes a card, easily customized with your company's logo and branding

Gifts can be sent instantly or scheduled ahead of time to coincide with a company-wide celebration

There's no need to track down a single mailing address – just send their eCard by email (or Slack, Teams, text, you name it) and we'll take care of the rest.

All gifts are delivered in gorgeous boxes and can include a personalized message of gratitude
Set up a free corporate account now to get started!